About DAR
DAR National Society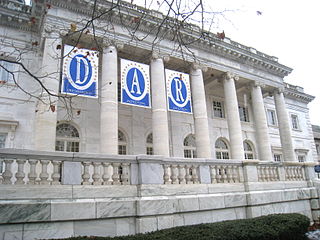 The DAR, founded in 1890 and headquartered in Washington, D.C., is a non-profit, non-political volunteer women's service organization dedicated to promoting patriotism, preserving American history, and securing America's future through better education for children.
DAR members volunteer millions of service hours annually in their local communities, including supporting active duty military personnel and assisting veteran patients, awarding thousands of dollars in scholarships and financial aid each year to students, and supporting schools for underserved children with annual donations exceeding one million dollars.
As one of the most inclusive genealogical societies in the country, DAR boasts over 180,000 members in 3,000 chapters across the United States and internationally. Any woman eighteen years or older — regardless of race, religion, or ethnic background — who can prove lineal descent from a patriot of the American Revolution, is eligible for membership.
NSDAR is exempt from federal income taxes under the provisions of Section 501(c)(3) of the Internal Revenue Code and receives no government funding.
Objectives, Motto, and Theme
The objectives of the DAR are Historic Preservation, Education, and Patriotism.
Our DAR national motto is "God, Home, and Country."
Our national theme this term is, "Moving Forward in Service to America".
Learn More:
DAR Constitution Hall
Ground was broken for DAR Constitution Hall on June 22, 1928. The cornerstone was laid by Mrs. Calvin Coolidge on October 30, 1928, using the trowel George Washington used to lay the cornerstone at the Capital in 1793. Mrs. Herbert Hoover was the guest speaker at the formal dedication on April 19, 1929. The first musical event in the hall was on November 2, 1929, and featured Anna Case, Efrem Zimbalist, Sophie Braslau, and Hans Barth.
DAR Museum
The DAR Museum is located in Memorial Continental Hall, a marble building that fronts 17th Street. It was designed in the Neoclassical Revival or Beaux-Arts style by Edward Pierce Casey. This National Historic Landmark was completed in 1910 and is the oldest of three buildings that make up the NSDAR complex.
DAR Library
The DAR Library was founded in 1896 as a collection of genealogical and historical publications for the use of staff genealogists verifying application papers for the National Society Daughters of the American Revolution. Shortly after 1900 the growing collection was opened to the public and has remained so ever since.
DAR Archives
The DAR Archives is comprised of two collections: The Americana Collection offers more than 4,000 diverse American imprints and manuscripts and the NSDAR Archives serves as the repository for NSDAR records which are no longer administratively useful but which have sufficient historical or other value to warrant their continued preservation.