Membership in DAR
Dazzling Daughters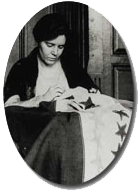 From its outset and beginning with its founders, the Society's ranks have included uncommon women who achieved uncommon goals. They include First Ladies and firsts in their field, actresses and adventurers, artists and authors, reformers and humanitarians, educators and engineers, doctors and nurses, and even pioneers in space. While their accomplishments are as diverse as their professions, all of them have been brave women who often performed heroic acts and shared a sense of purpose and pride, and an undaunted pursuit of their ideals.
Would you like to be a member of a women's service organization whose patriot ancestors made possible our American independence? Add to that a heritage of service in historic preservation, promotion of education, and encouragement of patriotism, and you have Today's DAR. Women of diverse backgrounds, aged eighteen and older, who want to play an active role in their communities while making new friends, are today's Daughters. As one member states, "To learn I could become a part of the DAR changed my life. I've made friendships for a lifetime."
Join us! The California DAR has 114 chapters statewide. You are eligible for membership if you can prove lineal descent from a Revolutionary War patriot who aided in achieving American independence. Help is available to document your lineage and to fill out the membership application.
Why Join
Membership in the National Society Daughters of the American Revolution (NSDAR) is an excellent way to honor and preserve the legacy of your patriot ancestor. When you become a member, you have the opportunity to contribute to your community through historic preservation, education, and patriotism while making life-long friends.
How to Join
In order to help you in your general genealogy research, and to assist with the DAR membership process, please explore our DAR Genealogical Research System (GRS). The GRS is a free resource provided by the NSDAR that includes a collection of databases that provides access to the many materials obtained by the DAR since its founding in 1890.
We welcome new members to our California chapters! Please complete our Prospective Member Information Request Form so that our state membership chairman may contact you and direct you to a DAR chapter in your area. If you prefer, you may contact our This email address is being protected from spambots. You need JavaScript enabled to view it. directly.
If you are interested in joining our chapter or attending a chapter meeting, please contact our This email address is being protected from spambots. You need JavaScript enabled to view it. or This email address is being protected from spambots. You need JavaScript enabled to view it., and we will be happy to assist you.
Learn More: