Estudillo Chapter, NSDAR, History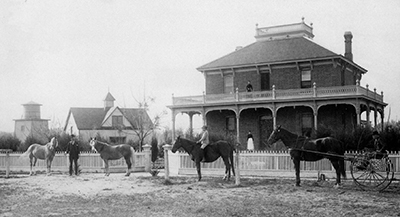 Francisco Estudillo Mansion in 1890
Estudillo Chapter, NSDAR
The Estudillo Chapter, NSDAR, was organized on March 12, 1940, with twenty-eight charter members. A gavel was presented to the chapter by our organizing regent at our first meeting. This gavel has been used to open and close every meeting since the chapter's inception. The gavel has two lovely brass plates. One plate states: "Estudillo Chapter Daughters of the American Revolution 1940." The other plate reads: "Presented by Alice Caldwell Mathers, Organizing Regent and First Chapter Regent."
This chapter was named for the Estudillo family whose members were prominent Hispanic pioneers. This family obtained their land through a Mexican Land Grant containing much of what is now the San Jacinto Valley and beyond, an area which includes Hemet, Riverside County, California. Unlike most Land Grant families, the Estudillo family continued to play an active role in our valley for more than a century after California became a part of the United States.
Francisco Estudillo (1844 - 1921) became one of the chief developers of this area. He ran successfully for a term on the Board of Supervisors, served on the local school board, and was the second mayor of San Jacinto. His home was built in 1884 and is now called The Estudillo Mansion. It was the grandest home of its day in our valley and is listed on the National Register of Historic Places and the California Register of Historical Resources.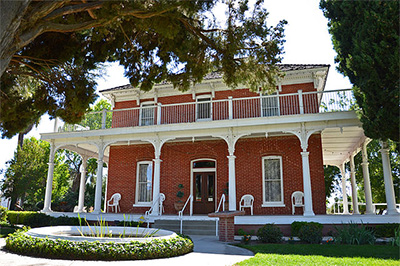 Estudillo Mansion today
Photos courtesy of chapter archives.